Harvests from the Gown: Festschrift in Honour of Professor Comfort Ekpo
---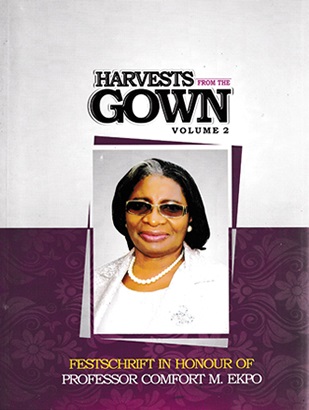 Click HERE to download the Introduction and a Complete Profile of Professor Comfort Ekpo
Scroll Down To Purchase the Articles in the Festschrift
---
It gives me great pleasure, and I count it a rare privilege and honour, to write this Foreword to a publication which seeks to maintain a golden tradition of academia in which the legacies of seasoned scholars are usually celebrated in the form of a festschrift, written by their colleagues, contemporaries, present and former students and other admirers. Apart from the basic function of honouring the scholar, the publication further advances the cause of knowledge production, dissemination and consumption for the ultimate good of humanity.
Usually, a festschrift is published when the cerebral individual has attained the age of 70. However, in a few cases such as this, the publication comes earlier especially where the scholar being celebrated had already fossilised her legacies in her chosen field of study ten years earlier than usual! This has been the case with my distinguished colleague, student and friend, Professor Comfort Memfin Ekpo, who rose steadily and sure-footedly through the ranks of her profession from the position of a Graduate Assistant in 1983 to that of Professor of Educational Technology on October 1 , 2001. I still have fond memories of young Comfort at Ahmadu Bello University in 1983, two years after I had come back from my doctoral Studies in the UK, combing the shelves of the University Library for materials in pursuit of her Master degree studies. How time flies!
That young, dashing, hard—working and unassuming academic has blossomed into a full-fledged Professor and an excellent university administrator, through various responsibilities, including Head of department; Director, Institute of Education; Deputy Vice-Chancellor (Academic) and now first female Vice-Chancellor of the University of Uyo, Nigeria. She attained the pinnacle of her career before reaching the age of 60. This is a very commendable achievement and marks one of the few cases in which a scholar becomes mature for early celebration with a festschrift.
I wish to commend her colleagues, contemporaries and students for a very remarkable and quite thoughtful undertaking to honour her with such a well-researched festschrift to mark her six decades of worthy -and fruitful existence. The scholarly presentation in this book has come from an array ofsources spanning through her colleagues, teachers, students, and reflecting a very broad multidisciplinary catchment that has earned the publication the very befitting title of Harvests from the Gown: Festschrift in Honour of Professor Comfort Ekpo.
This festschrift has attracted over' 40 different, well-researched and peer reviewed submissions from at least six different faculties within the University of Uyo, and from other institutions of higher learning both within and outside the country. This, has in no small way, shown the tremendous respect and honour that Professor Comfort Memfin Ekpo has attracted across the world, both as a scholar and as an administrator.
One distinguishing and quality milestone this publication has packed into one volume is excellent contribution to knowledge in such otherwise disparate fields as the Arts, Education, Environmental Studies, Law, Medical matters and the Social Sciences, all of which have been painstakingly well-researched. The other merit of the book lies in the professionally diverse editorial committee that handled its production. They must be commended for carrying out, with such professionalism and academic rigour, what is normally regarded as a very difficult task within an academic environment.
One major and all convincing reason I would recommend this festschrift to all stems from a trio of its contribution to knowledge, its multidisciplinary content appealing to all and sundry, and its being a testament of a quality life of academic integrity and colossal dedication to a chosen path of scholarship by our one and only Comfort Ekpo. This is why I have endorsed this Festschrift: Harvests from the Gown... as a must-read and a must—have for your library by all lovers of knowledge and success.
Professor Olugbemiro Jegede, D.Sc, FSTAN, FCOL, FAAS
Secretary to the Government of Kogi State of Nigeria.
Former Secretary General, Association of African Universities (2010 to 2012)
Former Vice Chancellor, National Open University of Nigeria (2003 to 2010)
---
Table of Contents
---
EDUCATION
1. Felicia E. Etim, Mercy E. Ukpanah & Mercy D. Ebong: Libraries in the Management, Preservation and Dissemination of Cultural Information Resources Download

2. Philip, Kathryn J. & Okon, Michael: Towards Educational Support: Library Services in the Era of Contemporary ICT Resources Download

3. Kudirat Bimbo Sanni, Inwang E. Udom & M.S. Otu: Counseling Students with Learning Disabilities: Challenge of Resource Management in School in the 21st Century Download

4. Uduakobong Oscar Udoh & Mbuotidem Odudu Umoh: Early Virtual Library Utilization and Educational Adjustment of University Students: A Study of University of Uyo Download

5. Emem P. Udofia & Aloysius Daniel A.: Assistive Technologies and Patronage of Students with Hearing Impairment in 21st Century Nigerian Academic Libraries. Download

6. Charles M. Ogbodo & Aloysius Okon Umosen: Education and Resource Management Transformational Leadership in Nigerian University Governance: A Paradigm Shift Download

7. Uduak U. Enang & Henry Itohowo Okon: Publishing and Provision of Learning Resources for Universal Basic Education Download

8. Okworo, G. 8., Akpan, S. J. & Teacher Ushie, B. C.: Historical Antecedents of the Development and Management of Educational Resource in Nigeria Download

9. Emmanuel Essien Bassey: Youth Capacity Building and Resource Management Through Vocational Agriculture Download

10. Ima-M.P. Usoro & Eboro E. Umoren: Management of Information Resources at it Enhances Availability and Accessibility of Information in African University Libraries Download

11. Eno Edem & Maria Emmanuel Afangideh: Issues and Challenges in Human Capital Development in Higher Education Teaching (HET) in Nigeria Download

12. Uwem Jonah Akpan: Educational Development in Ibibioland: The Era of Sampson Udo Etuk Download

13. Oleforo, Ngozika. A. & Egu, Rosemary, H.N.: Manpower and the Challenge of Resource Management in African Schools Download

14. Stella N. Nwosu: Instructional Design Resource for Nigeria Youth Manpower Development Download

15. Anthony A. Offiong, Saviour O. Nsa & Etop N. Essien: Yield Performance of Maize as Influenced by Fertilizer Types in a Cassava / Maize / Melon Intercrop in Uyo Local Government Area Download

16. Thelma U. Ekukinam & Olubusola I. Eshiet: Enhancing Quality in Basic Education Through Utilization of Jolly Phonics Literacy Resources in the Read and Write Foretfer Project (RAWF) in Akwa Ibom State, Nigeria Download

17. Jike-Wai, O. & Etuk, U. R.: Entertainment Education: A Strategr for Improving Nutrition Security in Rural Areas Download

18. Clara N. Olele: Educational Media Production in Digital Era Download

19. Eno Asuquo: Accessing Education Through Effective Management of Information and Communication Technology (ICT) Resources in Africa Download

20. John T. Mkpanang: Personality Profile of Teachers and their Students' Performance in Post-Basic Modern Physics Download

21 . Francis E. Ekanem & Emmanuel Iniobong Archibong: A Paradigmatic View of Science and Technological Education Through African Ontology Download

22. Etim, I. A., Inyang, I. J. & Effiong, A. E.: Health Information Literacy (HIL) and Control of Students' Psychopathological Problems: The Librarian in Partnership Download

ENVIRONMENTAL MANAGEMENT
FINE / INDUSTRIAL ARTS / ARCHITECTURE
1. John, Idibeke A.: The Portrait-of Art Patron in Nigeria: A Focus on Professor Comfort M. Ekpo Download

2. Anselem Nyah: Utilization of Lines in Computer-Aided Designed Instructional Material and Students' Performance in Fine Arts in Private Secondary Schools in Akwa Ibom State Download

3. Samuel O._ Ebong & Faith Ekong: Integrating Security Requirements into Architectural Design and Planning for Crime Prevention and Anti-Terrorism in Nigeria Download

4. Wilcox Rogers I., Uhofia Eti-Ido Sunday & Akadi Anthony P.: Cultural Perspective of Water Resources in Ibeno Local Government Area of Akwa Ibom State Download

ARTS
TRANSLATION / FRENCH STUDIES
1 . Richard Oko Ajah: Les Rapports Personnels Professeur-Etudiant: Reorientation Attitudinale Dans L'enseignement Du Francais Langue Entrangere Au Nigeria Download

2. Effiong Ekpenyong: Habir: The Translator's Contribution to Literacy with a Biblical Bias Download

3. Ndongo Kamdem Alphonse: Strategies De Liberation de la Femme Chez Lynn Mbuko, Unimna Angrey et Ihech Obesike: une Etude Comparee Download

4. Ugagu-Dominic, Nneka Rachel: Translation and Intercultural Communication: The Evaluation of the Translation of Chinua Achebe's Things Fall Apart into German Download

ENGLISH STUDIES, LITERATURE IN ENGLISH AND LINGUISTIC
1 . Imoh Abang Emenyi & Imo Okon: Africa in African American Psyche - A Movement from Reality to Text Download

2. David Akpan: From Mules to Men with Eyes: . A Chronotopic Appraisal of Zora Neale Hurston's Mules and Men and their Eyes Were Watching God Download

3. Romanus Aboh & Eno Akpa: Gender Relations and Identity Construction in Abimbola Adelakun's Under the Brown Rusted Roofs Download

4. Bassey Ufot: A Stylistic Study of Soyinka's Autobiographical Imagination in Ake and the Man Died Download

5. Willie U. Willie: Tense-Aspect Morphology in the Interlanguage of Learners of English as a Second Language (ESL) Download

6. Moses E. Ekpenyong & Duru G. Chinanuekpere: Spell Checking for African Language Systems Download

7. Ubong E. Josiah & Susana M. Akpan: Observed Intonational Patterns Among Akwa Ibom - English Bilinguals: The Need for Peagogical Introspection Download

HISTORY, SOCIAL SCIENCE, LAW, PHILOSOPHY
1 . Paul Maixcent Moussinga: The Dark Side of Imperialism Under the Victorian Period: British Colonial Domination in Africa in the 19th Century and the Structural Extension of the Empire Download

2. David Lishilinimle Imbua: Nigeria at 54: "The Best Man Policy" in Colonial Calabar Remembered Download

3. Nkereuwem D. Edernekong: History and the Necessity of Adjunct Disciplines in Nigerian Universities Download

4. Margaret Uwem Ite: The Role of Women in Peace Building and Reconstruction Download

5. Brown, Aniekan S. & Umoh, Ubong E.: Certification and Overschooling in Nigeria: A Crirninological Appraisal of the Socio-economic Dynamics Download

6. Gabriel E. Idang & Adekunle A. Ibrahim: Prof. Comfort Ekpo's Leadership Philosophy: An Integrative Humanist Model Download